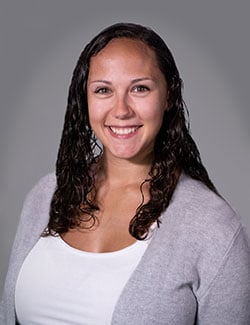 Undergraduate: D'Youville College Buffalo, NY (2012) Bachelor of Science in Exercise and Sports Studies

Graduate: D'Youville College Buffalo, NY (2015) Doctorate in Physical Therapy
Kaitlynn is a compassionate pelvic floor therapist who is formally trained in orthopedics and sports medicine. She previously worked in her hometown of Buffalo, NY for 4 years as an orthopedic physical therapist and certified strength and conditioning specialist (CSCS). She has special interest in treating the pre-natal and post-natal population, specifically with designing appropriate exercise prescription to return to a safe and healthy lifestyle, postpartum. Kaitlynn also has experience working in a Level I trauma hospital providing acute care physical therapy. She is a former collegiate rower and enjoys spending time outdoors with her husband and 2 golden retrievers, Keiser and Tucker.