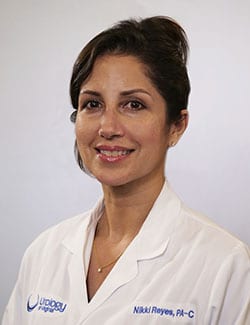 Education:
University of Houston (2001)
George Washington University (2008)
Nikki Reyes, PA-C – Nikki graduated from George Washington University Physician Assistant School in 2008. She has experience as a research coordinator at M.D. Anderson for bladder, renal and breast cancer studies (from 2002-2005). As a member of the Urology of Virginia team, she provides an optimum level of care to patients before, during and after urological procedures. Among her responsibilities, she conducts examinations and provides assessments of patients to physicians, performs daily rounds with treatment recommendations for inpatients, and regulates pharmaceutical needs when they are required.
Nikki is certified by the National Commission on Certification of Physician Assistants (NCCPA).