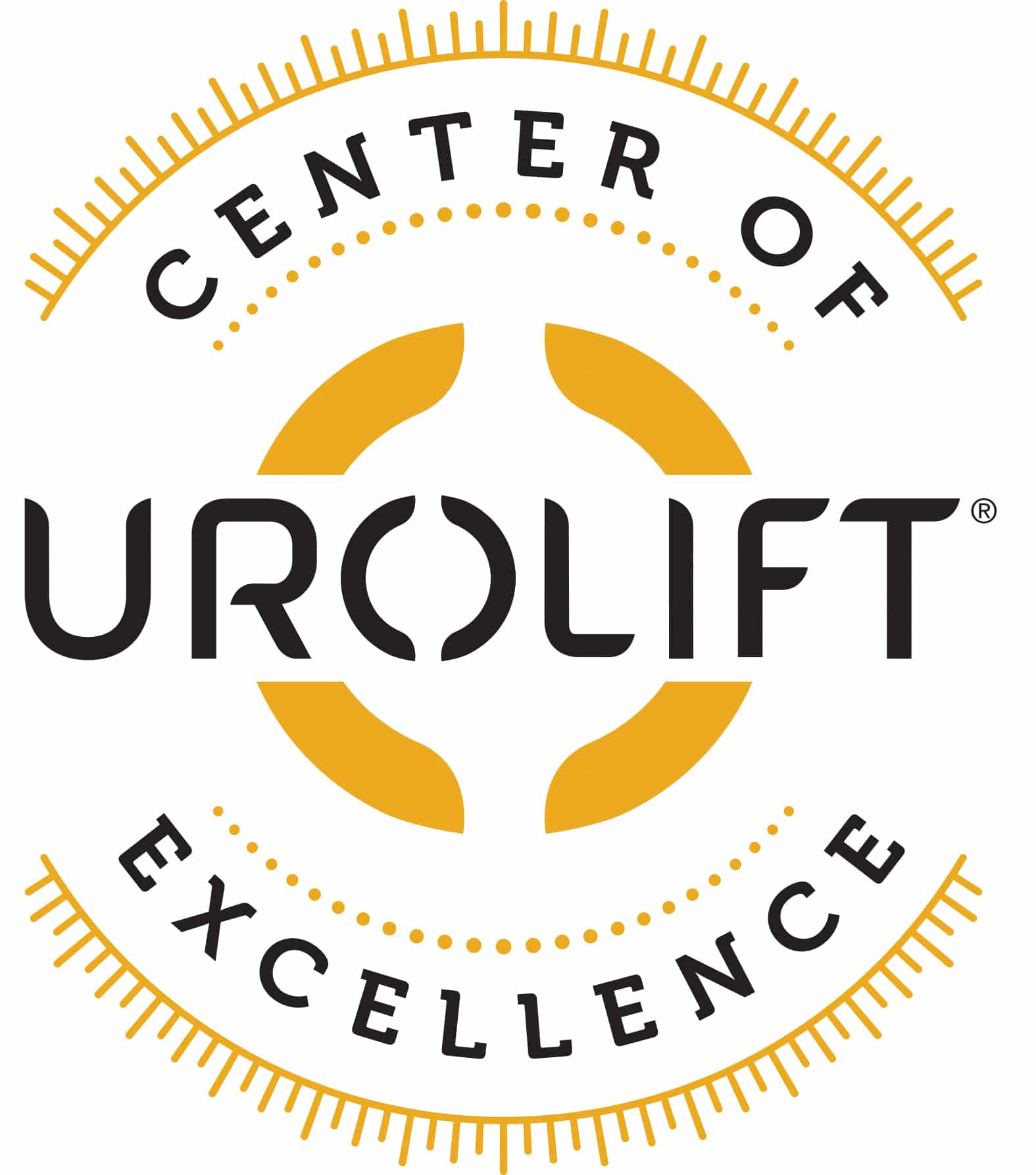 BPH – Benign Prostatic Hyperplasia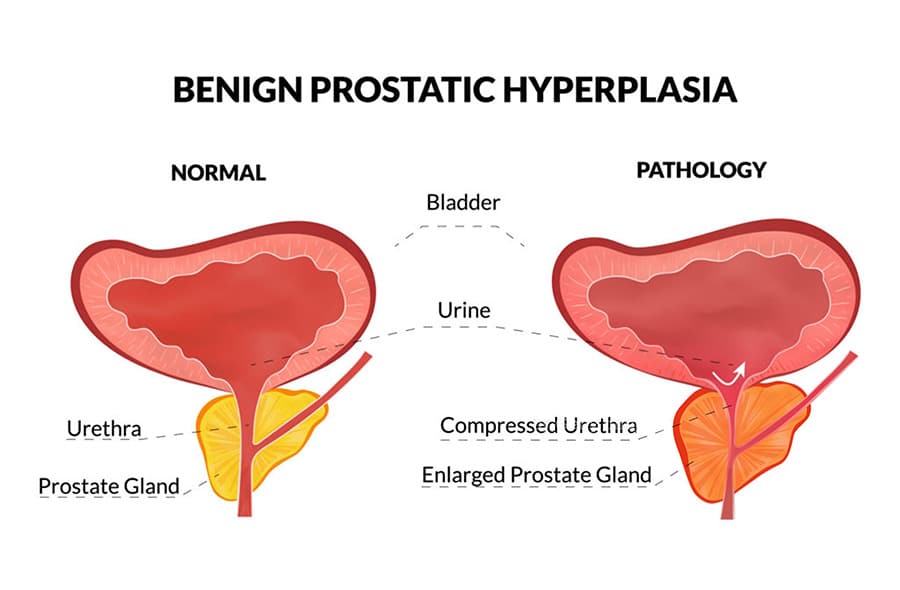 What is BPH – Benign Prostatic Hyperplasia?
BPH stands for Benign Prostatic Hyperplasia – more simply, enlargement of the prostate gland, which sits below the bladder and helps with reproduction. We don't know why the prostate enlarges as men age, but it is a very common event. Up to 50% of men over the age of 60 have symptoms from BPH, increasing to almost 90% in men over the age of 80. This condition is often seen in men with obesity, an inactive lifestyle or erectile dysfunction.
Causes & Symptoms
Diagnosis
Treatments
Glossary of Terms
FAQs
Causes & Symptoms
When the prostate enlarges, it squeezes down on the urethra, or the tube in the penis through which urine flows.
Symptoms of an enlarging prostate may include
A slow or interrupted stream
Trouble starting the stream
Urgent desire to urinate
More frequent daytime or nighttime voiding
In some men, the obstruction can lead to poor bladder emptying which, in turn, can cause urinary infections, bladder stones and less commonly kidney damage.
Some men experience blood in the urine because of BPH. A large prostate may seep blood into the urine after vigorous exercise or sexual activity. Use of blood thinners pose a small risk of causing urinary bleeding from a large prostate. Bloody urine has many other sources, so don't assume this is BPH. Speak to an urologist about getting a proper evaluation (refer to Hematuria – blood in the urine).
Although prostate enlargement is not a direct risk for getting prostate cancer, it can elevate the blood test used to screen for prostate cancer, called the Prostate Specific Antigen (PSA) blood test. If you have an elevated PSA, your urologist will try to sort out whether it is due to BPH, prostate cancer or other sources (refer to Elevated PSA blood test).
Diagnosis
Your urologist will ask specific questions about problems with urination. They will conduct a thorough exam and may note enlargement of the prostate. Sometimes, a blood PSA (prostate specific antigen) test is ordered to screen for possible prostate cancer.
If the diagnosis of BPH seems likely, we may offer treatment without more testing. If there is concern that the problem may be caused by something other than an obstructing prostate (eg, poor bladder function, a neurological condition) we may need to perform urodynamic testing. This involves placing a small catheter and filling the bladder with sterile fluid to check its function. If the prostate is very large and/or irregular, you may need a transrectal ultrasound and possibly a prostate biopsy if cancer is suspected. If you have had urinary infections and/or a very distended bladder, additional imaging studies (ultrasound or CT scan) may be ordered to check the health of the kidneys.
Treatments
Men who have prostate enlargement and only mild urinary symptoms do not need treatment unless they are bothered by those symptoms.
Medication
The simplest initial approach for treatment is the use of pills. There are two categories of medications used:
Alpha blockers

Work to open the prostate channel.
Improvement of symptoms should show within 1-2 weeks of use.
May cause lightheadedness, nasal congestion, or reduced volume of semen during ejaculation.

5 Alpha reductase inhibitors

Work to shrink the prostate.
Sometimes can take 4-6 months to achieve their maximal effect; although they take longer to work, the 5 alpha reductase inhibitors are especially useful in very large prostates.
May cause erectile dysfunction, reduced volume of semen with ejaculation, and breast tenderness or enlargement.
Some other medication options must be taken lifelong to continue to provide their benefits:
Tadalafil (Cialis 5mg daily) has been used to treat both Erectile Dysfunction and BPH.
Jalyn, a brand name drug that combines Tamsulosin and Avodart in one large pill
Minimally Invasive Procedures
Transurethral microwave thermotherapy

This procedure is done by placing a urethral catheter with an internal microwave antenna that is positioned inside the prostatic urethra. The prostate is treated using microwave heat.
It can be done using local numbing gels and oral sedatives.
The procedure takes 30-40 minutes, but often requires a catheter afterwards for a few days.

Transurethral needle ablation/Rezum

Procedures in which a telescope is passed into the urethra, the prostatic urethra is pierced and an energy source is used to destroy the interior prostate tissue, thereby creating a wider channel in the urethra.

UROLIFT

A telescope is placed down the urethra and titanium staples are deployed on either side of the prostate to open the channel.
Typically a very fast procedure that usually requires no catheter afterwards.
Note: It cannot be offered to men with very large glands.
Urology of Virginia offers this procedure and Dr.Eure, Center of Excellence, was featured on Coast , a Hampton Roads TV show explaining the Urolift procedure.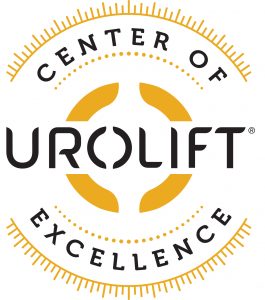 Endoscopic surgery (done in the operating room)
Photoselective vaporization (PVP)

Also called the "green light laser" procedure.
A telescope is placed in the urethra and the area where the prostate impinges upon the urethra is vaporized using a high power laser.
Can be done as an out-patient procedure and often without the need for a post-operative urinary catheter.

Bipolar resection of the prostate (TURP)

A telescope is placed in the urethra, and the prostate tissue that obstructs the inner channel is cut out using electrocautery.
The TURP requires a different tool than a laser, one that your urologist might prefer based upon his training and experience.
Although both PVP and TURP do require a trip to the operating room, neither procedure usually takes much longer than minimally invasive procedures.
There are a few other endoscopic procedures and even open surgery that can be used for the really large gland. Talk to your urologist about the pros and cons of any of these approaches.
Glossary of Terms
Alpha blockers
A category of drug that open up the prostate channel to allow better flow of the stream and less urinary urgency and frequency
Examples – Doxazosin (Cardura), Terazosin (Hytrin), Tamsulosin (Flomax), Silodosin (Rapaflo), Alfuzosin (Uroxatral)
5 Alpha Reductase Inhibitors
A category of drugs that shrink the prostate, typically taking 4-6 months to maximal effect.
Examples: Finasteride (Proscar), Dutasteride (Avodart)
BPH – Benign Prostatic Hyperplasia
Enlargement of the prostate gland that occurs when men grow older, more commonly after age 60
Cialis
Only the 5mg daily dose of Cialis has been approved to treat both erectile dysfunction and BPH.
Prostate
The walnut sized gland that sits below the bladder and encircles the urethra. The prostate makes semen which is expelled into the urethra during ejaculation. As men age the prostate often enlarges and causes urinary symptoms of slow or intermittent stream, urinary urgency and frequency, less commonly blood in the urine or urinary infections.
Urolift
A minimally invasive and out-patient procedure to tack open the prostate using Titanium "staples."
PVP
Photoselective vaporization is the endoscopic use of a high power laser to vaporize the interior of the prostate, leaving a wide channel for urination. This requires anesthesia, but it is usually done without the need for a urinary catheter afterwards.
TURP
Transurethral resection of the prostate opens the interior of the prostate by using electrocautery to remove the obstructing tissue. This requires anesthesia.
Frequently Asked Questions
If I have BPH, will I get prostate cancer?
No. BPH has not been linked to cases of prostate cancer.
If I am no longer planning children, why don't you just remove the entire prostate?
Radical prostatectomy might be done for selected cases of prostate cancer, but not for BPH. The surgery is much more complicated and has a higher risk of post-operative medical problems. Removal of the entire prostate may cause erectile dysfunction and incontinence in some men.
Which is better for BPH treatment – pills or procedures?
If you want to avoid the operating room, and if you urinate better taking pills, then the pills are just right for you. Some men complain that the pills are lifelong and cost them too much. Check your drug plan. A minority of men don't like the pills because of side effects. The procedures eliminate the need for pills in most men and results often last a lifetime.
How do I choose between PVP or TURP?
Some men argue that PVP cause less bleeding and rarely requires a post-operative catheter. On the other hand, urologists who favor TURP say they get the same results as a PVP. To a large degree, it's the training and preference of the surgeon that counts. If you trust your urologist, let them do what they do best!