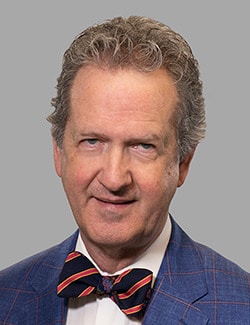 Undergraduate:
Southeastern Oklahoma State University (1975)
Medical School: University of Oklahoma College of Medicine (1978)
Residency: University of Oklahoma Health Sciences Center (General Surgery (1980)/Urology (1983)
Academic/Professional Appointments:
Director, Continuing Education, United States Air Force
Chief of Surgical Services, United States Air Force
Vice Chief of Medical Staff, Craven Regional Medical Center
Chief of Medical Staff, Craven Regional Medical Center
Dr. Lasater served as an active duty urologist in the United States Air Force Medical Corps, stationed at Tinker AFB and Langley AFB. He completed his service as a Major in 1987. He immediately joined the New Bern Urology Clinic in New Bern, NC and while engaged in his general urology practice was also active in medical staff leadership at the Craven Regional Medical Center where he served as chief of the medical staff and trustee of the Medical Authority Board. Dr. Lasater joined Urology of Virginia in January of 2009 and continues his urology practice at the Hampton River Medical Arts Building on the campus of the Sentara CarePlex Hospital where he enjoys active medical staff privileges.
Dr. Lasater has enjoyed his association with Urology of Virginia and its physicians who offer the latest in state of the art diagnostics and treatments. "The practice of urology offers a broad spectrum of challenging health issues that have both medical and surgical solutions. I have enjoyed and appreciated the development of minimally invasive operative procedures that have occurred since I became a practicing urologist in 1983. I am continually learning new methods and techniques to offer my patients". Dr. Lasater believes that he shares a special relationship with his patients. "Urologists enjoy a high level of trust with their patients because we address an intimate aspect of their lives – it gives me great pleasure and satisfaction to help those in need".
Dr. Lasater met his wife, Susan, a native of Newport News, VA, at the University of Oklahoma Health Sciences Center. They married locally in 1975 and have two grown daughters. Their eldest daughter, Morgan, is a UNC Medical School graduate board certified in both Anesthesiology and Pain Management. Their other daughter, Gentry, is an accomplished violinist and graduate of UNC Dental School now in Pediatric Dentistry residency at UNC Chapel Hill. Dr. Lasater has a number of special interests including having been lead trumpet player for "Crisis, The Band" from 1990 – 1997. He is an active 4,000 hour general aviation pilot and has also been involved in the development and implementation of electronic medical software since 1997. He served as the representative for the American Urological Association to the Physicians Electronic Health Record Coalition from 2008 to 2011.
Dr. Lasater is certified by The American Board of Urology. He is a member of the American Urological Association and the Southeastern Section of the American Urological Association.