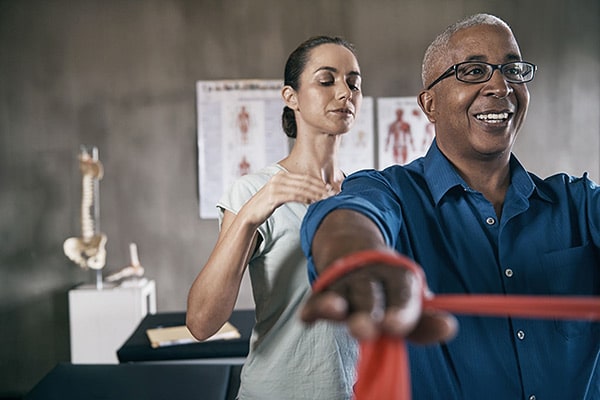 All of our evaluations and treatments are conducted in a comfortable and private setting with our expert therapists, who are all expertly trained to evaluate and treat all aspects of pelvic floor dysfunction. Our therapists frequently attend continuing education courses and professional training to expand their knowledge and skills. Many professionals on our PT team have obtained or are actively working towards specialty certifications in pelvic rehabilitation and other advanced manual therapy skills. They actively participate in community education and lead a local journal club for other area physical therapists interested in women's health and pelvic floor rehabilitation.
During pelvic floor physical therapy, we will assess the function and strength of your pelvic floor and how efficiently it works with the other core muscles. After your initial assessment, your physical therapist will work with you to teach you how to appropriately identify, isolate and contract your pelvic floor muscles to increase strength if this is what you need to learn. In some cases, patients maintain too much pressure on the pelvic floor and need therapy to learn how to release these muscles. Your therapist will help you identify which you need to focus on.
Initial visit
What to Bring on your first visit:
Your insurance card(s)
Completed Patient Forms
Please, arrive 30 minutes early to initial evaluation appointment time for check in
Please wear comfortable clothes that you can move around in
If you're concerned about what to expect at your initial visit, you can expect that we will be starting with a good conversation about what your symptoms are, how long you have had them, and many other questions that will help our team determine a logical and personalized course of care. We will discuss our initial thoughts with you and explain all aspects of care.
Evaluation: 45-60 minutes
Physical exam
Patient Education
Home exercise program
An evaluation report will be sent to the referring physician.
Subsequent Visits:
30-60 min
Treatment and periodic reevaluations
Progress reports will generally be sent back to referring physician periodically